Study Medicine in China at MOE Approved Universities with Scholarships and list
Study Clinical Medicines in one of the Moe-listed Medical universities in China.
Are you an undergraduate student who wants to accomplish medical study in China? To get admission to China for clinical medicine, you should know about universities eligible to accept international students for Medical Studies in China. These are MOE Listed Universities that are internationally recognized and well-respected in China. The MOE Listed University is recognized by the Ministry of Education of China. 
Out of all the medical universities in China, 45 Universities in China are MOE Listed, which are historic and comprehensive. If you want to study MBBS in China in English, MOE Approved Universities in China are approved to teach Medical Study to international students in English.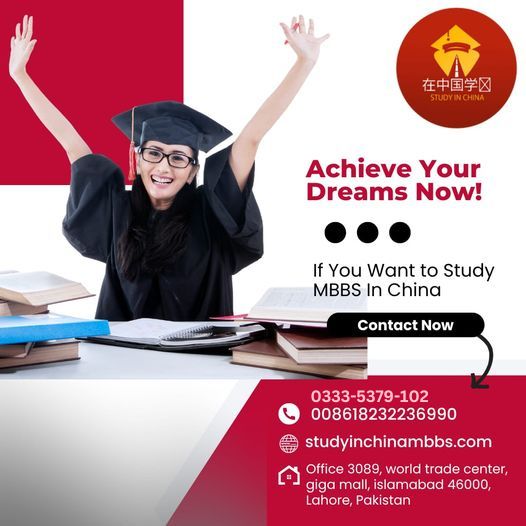 Experienced Agency to get you into a Moe-listed university in China
Realize your Dream of Becoming a Successful Doctor!
Medical students are privileged enough to get professional consultancy & and guidance for MBBS admissions in China either from our online portal or our representative study in China consultant in Islamabad, Lahore, Peshawar, Rawalpindi, and all other major cities of Pakistan. China offers the world's most advanced & and practical MBBS degree programs in the whole world. So, it is 1 of the favorite MBBS study destinations across the globe for international students who want to study MBBS in China with an affordable MBBS in China fee structure.
Requirements of Admission to MOE-Listed University:
Most universities in China only accept admission applications submitted indirectly by students. Therefore, a consultant from an admission agency is needed to apply to a Chinese University. According to your budget, our consultant agency will guide you properly in selecting a university for your studies, and we will proceed with your admission to your desired MOE-listed University in China.
You will need to fulfill the following requirements to get admission to the listed University
List of Top MOE-Approved Universities in China
Since 2007, the MOE-approved universities list has been released regularly every year. This list was created on the introduction of "Provisions for Quality Control Standards on Undergraduate Medical Education in English for International Students in China."
The list of best MOE universities that are allowed to teach MBBS to international students in English Medium:
For determination of qualification of Medical Schools in China, they are continuously assessed by the National Western Medical Education Expert Group to see whether they can offer MBBS in English or not, and accordingly, this list is maintained.
Best MOE Scholarship University List for Extraordinary Students
Many Medical Universities in China approved by MOE offer multiple scholarship programs for International Students who are academically exceptional. These scholarship programs are fully funded. So, if you are an outstanding student but can't afford to study Clinical Medicine in China, then here is the MOE Scholarship University List that you should consider:
JIANGSU University
DALIAN Medical University
SHANGHAI University
SHANGDONG University
NANJING Medical University
FUJIANG Medical University
WENZHOU Medical College
SHIHEZI University
ANHUI Medical University
XINJIANG Medical University
All You Need to Know about MOE-Listed Universities' Fee Structure
Those universities allowed by the Ministry of Education of China to teach English Medium MBBS degrees to international students fall under the category of MOE-listed Universities in China.
Non-MOE Listed Universities
Non-listed universities also offer MBBS degrees to international students, but these degrees are in Chinese Medium. They need to provide MBBS in English Medium.
Here are the Fee Structures of Some Well-Known MOE listed Universities:
Nanjing Medical University
Fujian Medical University
Xinjiang Medical University:
List of 45 MOE Approved Universities:
Out of 200 Medical Colleges in China, only 45 are MOE Listed Universities where the English Medium syllabus is taught with the approval of the Ministry of Education. These Universities are the following:
China medical university
Dalian medical university
Jilin university
Capital medical university
Shandong university
Tianjin medical university
Xinjiang medical university
Fudan university
Jiangsu university
Nanjing medical university
Zhejiang university
Wenzhou medical college
Wuhan university
Huazhong university of science and technology
Southern medical university
Xi'an jiaotong university
Guangxi medical university
Jinan university
Sichuan university
Harbin medical university
Chongqing medical university
Beihua University (North China University)
Jinzhou Medical University
Qingdao University
Hebei Medical University
Ningxia Medical University
Tongji University
Shihezi University
South East University
Yangzhou University
Nantong University
Soochow University
Ningbo University
Fujian Medical Univeristy
Anhui Medical University
Xuzhou Medical College
China Three Gorges University
Zhengzhou University
Guangzhou Medical University
Sunyat_Sen University
Shantou University
Kunming Medical University
North Sichuan Medical College
South West Medical University
Xiamen University
Study in China with Pakistan's No.1 Study Visa Consultants
So, call or Visit us for any sort of query for Study in China; we are here to serve you 24/7